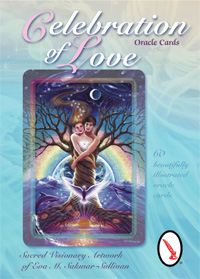 Inspire your sixth sense to guide you using the energy associated with the images
Based on the law of attraction, you will choose the cards that are in vibrational harmony with the answers you seek or what you most need to know. Working with these cards on a daily basis will have a positive impact on your life and the people around you.
What do you need to know about love?
Spark your intuition and connection with Divine guidance and celebrate love through purity and the magnificnece of self! Eva's mission is for her artwork to serve as inspirstion for personal and planetary healing, transformation and love. She is a visionary painter and environmentalist with a special love for dolphins and creatures of the sea.
Intention of Oracle Deck
"It is my most sincerest intention that these Celebration of Love oracle cards serve your Highest Good, and that they spark your intuition and connection with the Divine guidance that is within you always." -Eva
The Meaning of Celebration of Love
The Celebration of Love cards are built on celebrating everything in our lives and world through the purity of Love. A constant theme is living each moment with appreciation and gratitude for all the Creator has given us and that includes the magnificence of ourselves.
Celebration of Love
Oracle Cards
*60 beautifully illustrated cards by award-winning artist Eva M. Sakmar-Sullivan
**An easy-to-read guide for interpreting love signs in your life
**Your key to love vibrations through clear and concise symbolism
$24.99
Boxed set: 60 color cards, 96 page book
5.3" x 3.3" x 1.5"
For more information or to order:
ORACLE DECK AUTOGRAPHED BY AUTHOR
$24.95 plus Postage and Handling of $6.95
Include the name the deck will be autographed to and contact Eva to pay with PayPal.
Or order from amazon.com or the publisher directly:
Schiffer Publishing, Ltd.
610-593-1777 www.schifferbooks.com